Join MNSAH for our events and tours. Although our name sounds exclusive, we are not. In fact, many MNSAH members are simply people who love architecture and are eager to experience the fascinating built environment of Minnesota and the Upper Midwest with their fellow enthusiasts.
---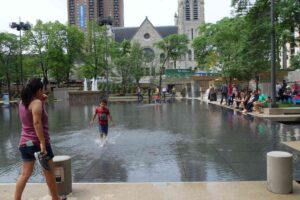 Fall Tour
Minneapolis Revival:
Peavey Plaza and Loring Greenway
Saturday, October 8, 2022
MNSAH's Fall Tour features a walking tour of both Peavey Plaza and the Loring Greenway in downtown Minneapolis, which were designed by New York landscape architect M. Paul Friedberg, who promoted an innovative approach to urban design, the park plaza.